What Does The Honourable Cordwainers' Company Do?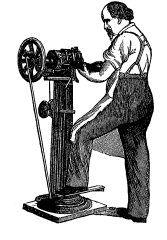 We provide a forum for the exchange of technical expertise, research, training and material needs such as tools, supplies, and sources for goods and services among our members to preserve and promote the traditional practise of the trade within the framework of a non-profit educational organization. The HCC is a public clearinghouse for recent historical footwear research, educational resources, and the expertise of its members. It supports educational activities such as a web-based forum, publications; demonstrations and workshops of historical, traditional, as well as modern boot and shoemaking at annual general meetings.

Much of the The H.C.C.'s educational activity takes place via an online discussion forum, The Crispin Colloquy, one of the world's oldest, largest, and most active web-based discussion lists focused on shoemaking and allied trades. Membership dues support the maintenance of this website, and the guild's other educational activities. The H.C.C. also makes available an extensive collection of educational demonstrations, lectures, presentations and workshops in DVD format, available for sale to members and the general public, as well as reprint texts on the shoemaking trade. Publicly supported via membership dues, contributions, and sales of H.C.C. reprint books, DVDs, CDs and related goods, all membership donations, fees, and sales proceeds support the guild's non-profit educational mission.

The guild also maintains a library housed at the University of Tulsa, Oklahoma, and annually produces and distributes educational DVD videos of guild lectures, workshops and demonstrations from the yearly meetings.

The HCC conducts an annual general meeting during the weekend closest to the 25th of October, St. Crispin's Day, usually at sites of historic interest, which alternate from the east coast, the mid-west, and the western United States. This includes a general business meeting, and educational presentations and lectures by members and guest-speakers, artisans and authorities, demonstrations, and side-trips of interest, as well as an exhibition of members' work and tools and items for sale or trade. The HCC has an annual dinner, anciently known as the "feasting and drinking", where old and new members alike enjoy a taste of the camaraderie, hospitality, and fellowship for which cordwainers have been renowned down the centuries.